The end of July means
Renegade Craft Fair
is back in town! This is an event that I look forward to and dread at the same time. There are so many wonderful craftspeople and artists who bring beautifully made products to the Craft Fair that you can't help but want to buy something from each booth. It's cash-draining inspiration all around you!
This year I went with Maya and my two sisters, but ended up spending most of my time with Maya (we got separated from my sisters on multiple occasions) because she was being quite the shopper (when the booth interested her) or complainer (when the booth didn't interest her). But we all managed to leave the fair a few hours later with some good purchases.
I was on the lookout for a ring to purchase and came home with two really reasonably priced ones (i.e., under $10). One is an
octopus ring
from
Foamy Wader
and the other one is a narwhal ring from
Unicorn Crafts
I plan to share with Maya (thank goodness for adjustable rings).
The following rings were right up my alley but out of my price range: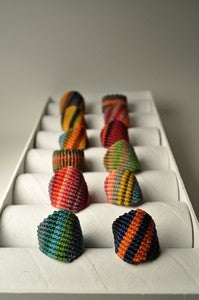 Maya was probably the most interested in the dogs walking around the booths with their owners. Other than that, her shopping money went to plushies and buttons, and her wishlist included earrings (her ears aren't pierced yet).

I often come home from these shows with some art prints, but I don't have any more wall space for new ones, so I only came home with a couple of small ones:
[for the bedroom]
[for the kitchen]
My one regret is not buying a necklace from
Eri Sugimoto
's booth. She's a potter but she was also selling some necklaces that incorporated ceramic pieces (like the ones below). I thought I didn't have enough money but, as is always the case, it turns out I just had enough. And now I can't find any images of the piece (and it doesn't seem like she's sold any through
her etsy shop
). Dang it!